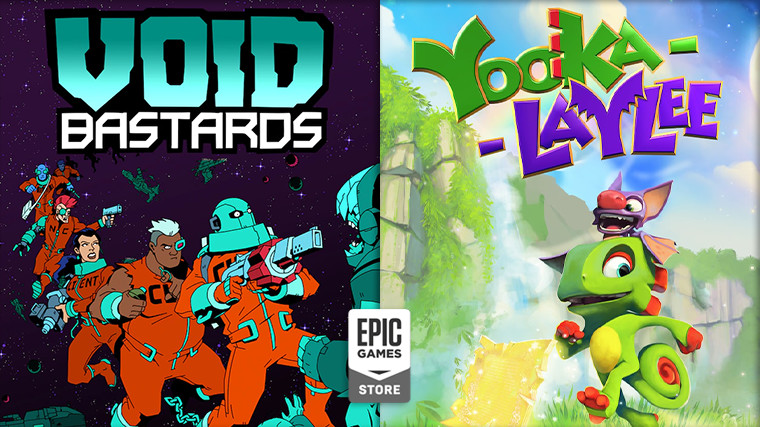 The latest freebies of the Epic Games Store have arrived, and this time you can claim a double promotion that brings along the indies Void Bastards and Yooka-Laylee. This duo has replaced the Rebel Galaxy offer from last week,
Developed by Blue Manchu, Void Bastards arrives as a sci-fi first-person shooter with a roguelike twist. You take the role of a rehydrated prisoner on a spaceship that is being forced to invade other ships for resources while fighting their inhabitants. Dying means losing your loot and another prisoner being rehydrated to take your place.
Here's how the Void Bastards store page describes the game:
Forget everything you know about first-person shooters: Void Bastards asks you to take charge, not just point your gun and fire. Your task is to lead the rag-tag Void Bastards out of the Sargasso Nebula. You make the decisions: where to go, what to do and who to fight. And then you must carry out that strategy in the face of strange and terrible enemies.
On the other side of the freebie promotion this week is Yooka-Laylee. This is an open-world platformer by Playtonic, a studio formed out of former Rare developers. The title puts you into the shoes of the chameleon Yooka and his bat friend Laylee as they fight the efforts of Capital B, a "corporate creep" looking to turn all books in the world to pure profit.
The game description on the store page says the following:
Yooka-Laylee is an all-new open-world platformer from genre veterans Playtonic! Explore huge, beautiful worlds, meet an unforgettable cast of characters and horde a vault-load of collectibles as buddy-duo Yooka and Laylee embark on an epic adventure!
Here are the minimum system requirements for the two games:
Void Bastards
Yooka-Laylee

OS: Windows 7/8/10 (64-bit versions)
CPU: Quad Core, 1.8GHz
GPU: GTX 660 2GB, AMD Radeon 7850 2GB
Memory: 8 GB RAM
Storage: 6GB

OS: Windows 7 (64-bit)
CPU: Intel i5-2500 3.3GHz
GPU: NVidia GTS450 / AMD Radeon 6850HD
Memory: 8 GB
Storage: 9GB
Other: A Controller is STRONGLY recommended to play this game.
The Void Bastards and Yooka-Laylee giveaways will be available on the Epic Games Store through next Thursday, August 26, for claiming. Automachef is up next on the giveaway schedule.