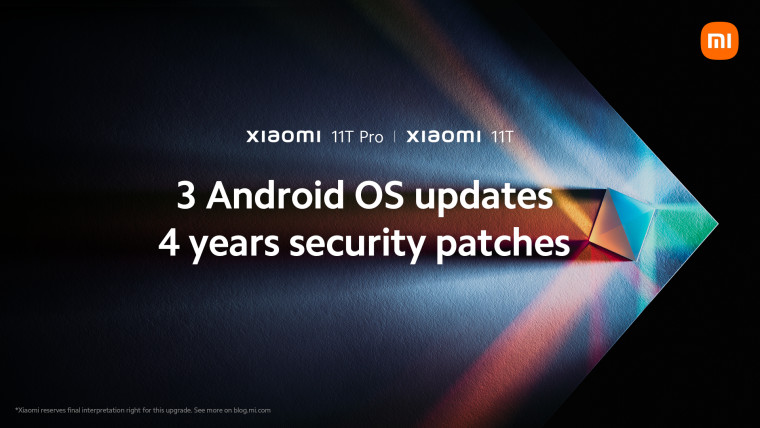 Samsung is currently the only smartphone company that offers up to three years of OS upgrades and four years of security updates for its new flagship phones. Xiaomi is now playing catch-up.
The Chinese phone maker announced today that it will release three generations of Android OS upgrades and four years of security updates to its upcoming 11T series. The lineup comprises the Xiaomi 11T Pro and the standard version, which are all slated to debut on September 15.
Existing Xiaomi devices are set to pick up security updates for only two years. These include its latest flagship devices like the Mi 11 Ultra. The latest announcement gives consumers the assurance their future mobile devices are up-to-date and protected from security threats for at least four years.
Beyond the upcoming Xiaomi 11T series, the company is also considering extending the new OS and security update schedule to its existing smartphones. Albert Shan, Head of Product & Technology at Xiaomi, said:
With the continuous improvement made to smartphone hardware, the life cycle of a smartphone is gradually lengthening, meaning users aren't required to replace their smartphones as frequently. For this reason, more consumers place great importance on receiving the latest operating system updates, along with the latest features.
Xiaomi noted, however, that OS upgrades and features may not be available to all devices. The availability of these updates may vary "from device to device and from market to market," the firm says.
The company's upcoming devices were teased a few days ago. The Xiaomi 11T Pro will be the company's first low-cost flagship to support 120W fast charging. Other specs may include a Snapdragon 888 chipset, a 120Hz OLED display, a 5,000mAh battery, and a 108MP main camera. Meanwhile, the standard Xiaomi 11T is likely to be equipped with a MediaTek Dimensity 1200 chipset and a 64MP primary camera.