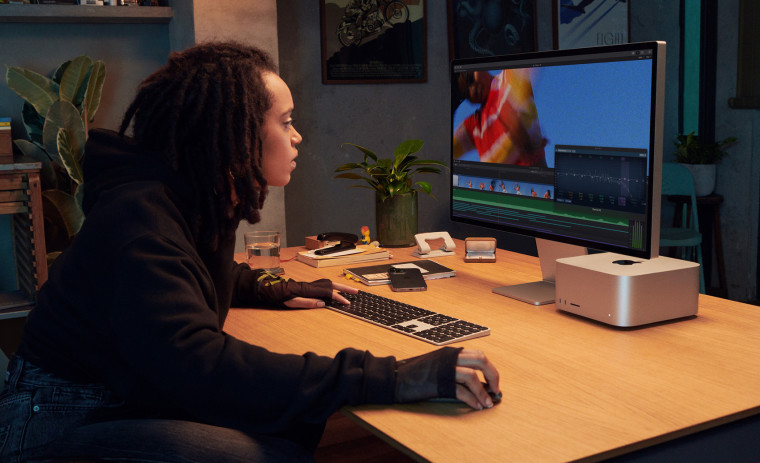 Apple might announce a new Mac Studio computer at the WWDC 2023 developer event that's scheduled to start next week. Bloomberg's Mark Gurman said on Twitter that Apple "is nearing the introduction of a new Mac codenamed J475." He added that the codename for the current Mac Studio is J375, thus, hinting at the possible arrival of its successor.
Mac Studio is a compact workstation that Apple announced in March 2022 alongside the Studio Display. It's one of the four desktop computers in Apple's lineup, including Mac Mini, iMac, and Mac Pro. Mac Studio comes in two variants, featuring the M1 Max and M1 Ultra chips respectively. The base variant of the Mac Studio is available for $1,999 in the US, meanwhile, the pricier M1 Ultra variant starts at $3,999.
It was previously reported that Apple is testing two new desktop computers, dubbed Mac 14,13 and Mac 14,14, ahead of its developer conference. These machines are powered by the M2 Max and M2 Ultra chips. However, Apple is yet to announce the M2 Ultra chip which will be the successor to M1 Ultra that powers the existing Mac Studio.
M2 Ultra will reportedly come loaded with a 24-core CPU, a 60-core GPU, and support up to 192 GB of RAM. However, there could be a pricier variant for the chip fitted with a 76-core GPU. On the other hand, the M2 Max chip features a 12-core CPU and a 30-core GPU, and may support up to 96 GB of RAM.
Apart from that, Apple could unveil a new 15-inch variant of the MacBook Air, expanding its existing lineup that already has 13, 14, and 16-inch MacBooks to choose from. Recently, the company also dropped a new teaser for the upcoming event along with a special Apple Music playlist dedicated to the event.
via Macrumors