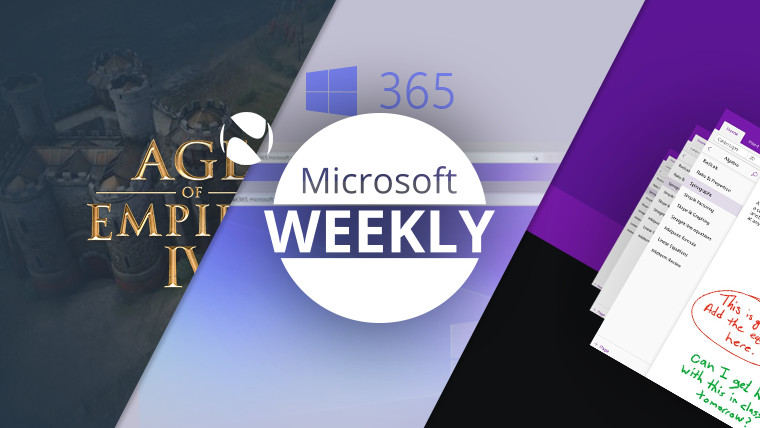 Shocking absolutely no one, yet another week has gone by, bringing with it news about Microsoft's Windows 365 solution, the beginning of the AoE IV closed beta, and some productivity-related announcements. You'll find info about those subjects and more below, in your Microsoft digest for the week of August 1 – 7.
Age of Empires IV closed beta
Following the very well received remasters of the first three AoE games, Microsoft has now entered the closed beta phase for Age of Empires IV, the upcoming major entry in the rather legendary RTS series. For those who were able to register, the closed beta started on August 5, and is set to last until August 16, with the final copy of the game set to hit store shelves on October 28.
In the meantime, if you weren't able to get in, but have a Game Pass subscription, Hades, Skate, Art of Rally, and more are either already available or coming soon to the service (in the case of Art of Rally and Hades). As expected, this is across PC, consoles and the cloud, with availability varying by title.
Additionally, the Xbox Ultimate Game Sale is worth checking out, as it includes deals for Dark Souls and Fallout games – among others -, and if you are a fan of limited-edition controllers, the two-tone Aqua Shift Special Edition Xbox Wireless Controller is now available for pre-order for $69.99. The controller launches September 1.
To cap things off for this section, we should also mention that an 'Xbox Through The Years' curated artwork collection is now available for the Samsung Frame. Last but not least, there's also a Halo Infinite-themed skin for the Waze app, which is available worldwide in English, Spanish, French and Portuguese, though for a limited time. No word yet from Microsoft in regards to how long it'll be available, beyond the previously mentioned, vague phrasing.
Windows 365
After announcing the service in July, Microsoft has now shared that Windows 365 – its cloud-hosted Windows solution, which can be streamed to personal and corporate devices – has now hit the general availability phase. Coinciding with this, the Redmond giant has also extended its App Assure program to include Windows 365. App Assure acts as a method of ensuring that a business will not have any app compatibility issues when switching to a newer solution or operating system.
Unfortunately for those eager to test out the cloud-hosted variant of Windows, Microsoft has paused trials due to an "unbelievable response" to the product. In case this hasn't deterred you from wanting to try it out, you can sign up to be notified when trials are available again.
There are other relevant points that need to be discussed regarding this new service, including the fact that it comes in Business and Enterprise flavors, with Basic, Standard, and Premium tiers.
It starts from $24/user/month (or $20/user/month with Windows Hybrid Benefit), which nets you 1 vCPU, 2GB of RAM, and 64GB of storage. It can go up to 8 vCPUs, 32GB of RAM and 512GB of storage, which goes for $162/user/month (or $158/user/month with Windows Hybrid Benefit). In both cases, the subscription auto-renews.
There are also limits to outbound network traffic depending on the choice of tier, and Windows 365 can run on any device with an internet connection and an HTML5-capable browser. Lastly, the service is available globally, except in China (currently).
Switching from the cloud to something a tad more local, Microsoft also pushed out Windows 11 build 22000.120 to both the Dev and Beta channel. Alongside a new Family Safety widget, the build also comes with a laundry list of fixes, as well as the ever-present known issues.
If you want to test out the next major version of Windows, but want a slightly more stable experience, there's also the option of the aforementioned Beta channel. For those curious, here's how to switch to it.
And if none of the above is all that interesting to you, there's also the option to wait until the OS is made available. If we're to pay attention to Microsoft's dropping of hints, the launch could be set for some time in October.
More productivity
Though shorter than the other two sections, I thought we would dedicate a small bit of column real estate to some more productivity-focused announcements.
We'll start with OneNote. All of the various apps and solutions for Windows are set to be unified into a single app, something which folks have been asking Microsoft to do for years. According to the company, the unified solution will be created over the course of the next 12 months, and once the desktop variant of OneNote reaches feature-parity with the UWP one, invites will start rolling out for folks running the UWP app to switch to the desktop counterpart. These invitations will start rolling out in 2022.
In other Office news, the Office app for Android will be getting File Card support this month. In short, this is a UI element which offers inline information about your various files. The Redmond firm states that it is recommended users update to version 16.0.14228.20138 to use this feature – though it's not guaranteed you'll see this immediately.
Visual Studio Code itself also got an update, namely v1.59 (or the July 2021 update), which brought in improvements to the extensions view, built-in support for Jupyter notebooks, and more.
We end on some SwiftKey news, the latest Beta update for which has added support for clipboard sync between Android and Windows 10. This works on version 7.8.5 of SwiftKey Beta (and above) and for folks running the Windows 10 October 2018 Update (1809) or later. There's no indication as to when the feature will come to iOS.
Dev channel
Logging off
To end, we'll highlight a review from our very own Christopher White.
With the wave of folks working from home as a result of COVID-19, there were a number of tech-related issues that needed to be solved. Among them, how you would set up a place in your home in order to work efficiently.
To see how exactly Microsoft's Modern remote work accessories stack up in a work-from-home scenario, Chris took a look at the Modern USB Headset (and its Wireless counterpart), the USB-C Speaker, Webcam, and the associated Accessory Center app.
Impressions after a week of thorough use, as well the answer to whether or not these peripherals are worth buying, can be found here.
Missed any of the previous columns? Check them all out at this link.
---

If you'd like to get a daily digest of news from Neowin, we now have a Newsletter you can sign up to either via the 'Get our newsletter' widget in the sidebar, or this link.