We like to highlight concepts from various artists, designers, hobbyists and tech enthusiasts as they spark fruitful discussions about what software or hardware should look like and sometimes they also help to shape future iterations. We have previously covered a cool concept for Windows 10 which brings the Modern and Desktop UI closer together, a clean and colorful concept of the Xbox Music app on Windows and an intriguing design for Office 365 on Android.
Today, we have an interesting "Windows X for phones" concept to share with our readers. Designed by "J G" on stampsy, this design has garnered more than a thousand votes on Windows Phone User Voice, of which almost all are extremely positive. The design has been labeled as "Windows X for Phones: A Fanboy's Visualized Wishlist" by the designer and mixes the positive aspects of the current build of Windows 10 Technical Preview for phones and the features which were present in Windows Phone 8.1, with a splash of creativity, color and ideas from the artist himself.
J G starts off with the lockscreen which he thinks should have a lot more functionality than it currently offers. His design emphasizes "true multi-user support"; for example, if a person taps on the "Me" tile on the upper left corner of the screen, the OS should have the option to access the device from multiple accounts, such as business accounts.
His design also includes alternative sign-in options like picture password, already present on Windows and pattern locks, one of the most wanted feature by Windows Phone users. He suggests there should be alternate solutions to unlocking the device through FIDO Alliance solutions, which would allow users to interact with their device and open it using their eye, fingerprint or voice. It is notable that Microsoft is already working on making passwords obsolete in Windows Hello.
Diving deeper into the OS' personalization settings, the designer believes that there should be more options for accent colors. Users should be allowed to mix and match different shades of colors to add uniqueness to their device.
J G also focuses on the design of one of the most defining features of Windows Phone, the Live Tiles. The artist thinks that along with the allocation of a wider array of tile sizes such as the ones shown above, Microsoft should also work on making them more interactive. This could be done by programming tiles in such a way that tapping on tiles via some specific gesture such as a swipe which will make it expand it so users can easily interact with it instead of opening the app itself.
Instead of using the hamburger control element, which Microsoft has been shifting towards with new apps, the designer proposes that the OneDrive app should look something like this: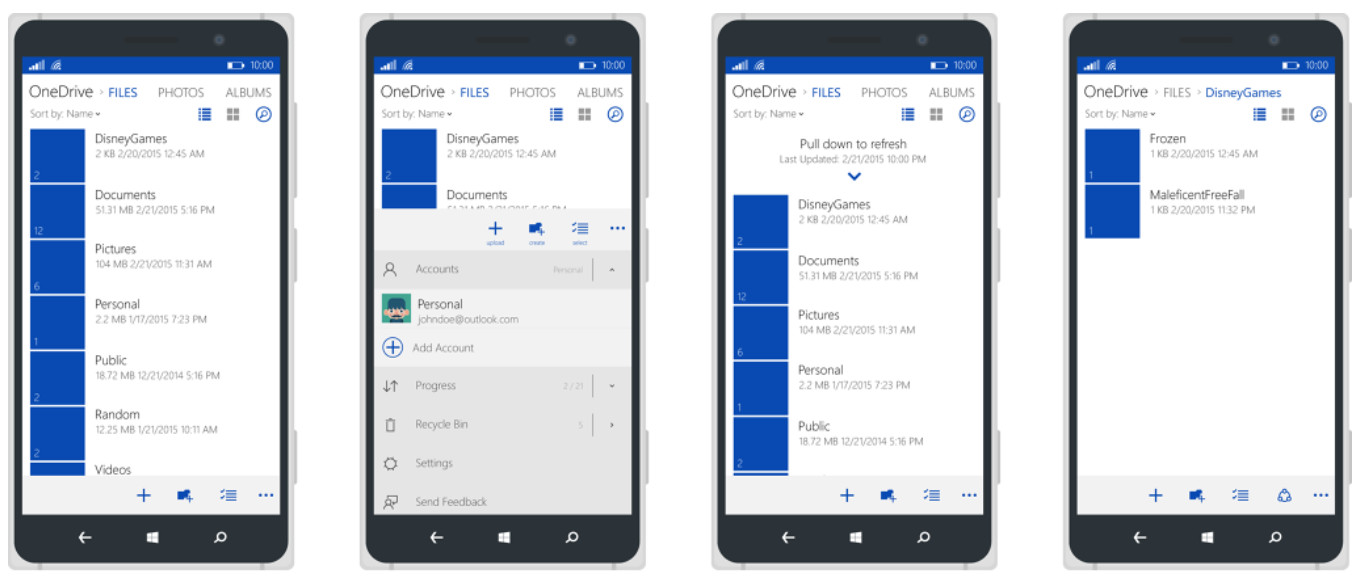 Other minor features which should be brought back to the OS include the repositioning of the address bar in Project Spartan to the bottom of the page and the UI toggles present in Windows Phone 8.1 should also make a return to the OS too. For those of you who don't remember, they look something like this:
All-in-all, based on our own judgment and the number of votes and comments on the Windows Phone User Voice forum, it is an interesting concept to say the least. It does not only add functionality to the OS but also a personality which can be customized according to the user's taste. Everyone will probably find something appealing to their taste in this Windows X for phones concept.
If you'd like to make your voice heard and influence the future of the OS, make sure to vote on User Voice and get involved with the community in our 250+ page thread on Windows 10 Technical Preview which you can view and participate in here.
Source and images: J G on stamps | Thanks for the tip, singularity0821