It's the end of yet another week of April, which means that it's time to recap all the important events that transpired in the Microsoft-verse in the past few days. As this week was Patch Tuesday, our primary focus this time around is on Windows updates, followed by some malware news, and Edge updates. Find out more about these topics in our weekly digest for April 9 - April 15.
Windows updates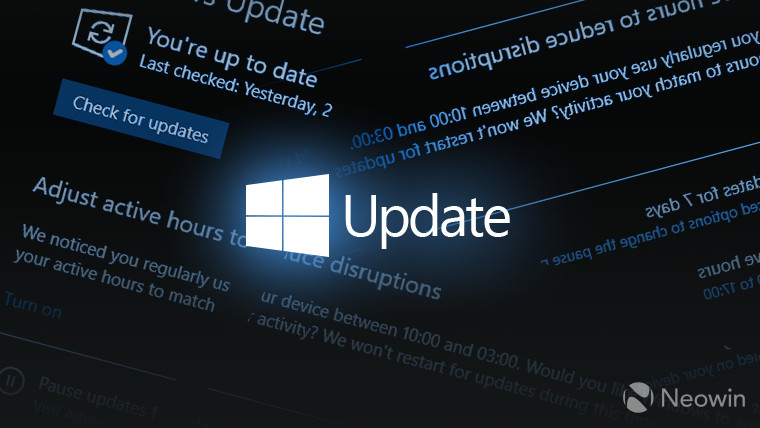 Since this was the second week of the month, Microsoft rolled out its Patch Tuesday updates for supported operating systems near the start of the week.
The updates for Windows 7 (KB5012626) and Windows 8.1 (KB5012670) fix some issues related to the Windows Media Center and BitLocker, among other things. However, there are some other known problems that you should check out in our dedicated piece here too.
Meanwhile, Windows 10's Patch Tuesday update (KB5012599) contains security patches and some known issues. Updates are also being delivered to some older versions of LTSC Windows and Enterprise SKUs.
Finally, the Windows 11 update (KB5012592) has some security fixes and rolls up the changes present in the optional "C" preview release (KB5011563) from earlier this month too. This means that the ability to change the default browser relatively quicker is now generally available.
There were a ton of updates in the Insider Preview for Windows 11 too. It turns out that version 22H2 of the operating system will let you disable the overflow and show all apps icons in the notification area. The company is seemingly also prepping to make third-party Widgets installable from the Microsoft Store. Although success in this area is obviously dependent on developer support, something that Microsoft generally struggles with on its storefront.
Microsoft also rolled out build 22598 in the Windows 11 Dev Channel with new Task Manager shortcuts, an updated Media Player experience, changes to Spotlight behavior, new wallpapers for clean installs, and lots more. Those who prefer installs via ISOs will be happy to know that the disk image for this build is available too. Microsoft later released build 22598.100 (KB5014100) for both Dev and Beta channels as well, but that was just to test the servicing pipeline.
The Release Preview Channel finally received some love this week. Windows 10 build 19044.1679 (KB5011831) brought with it tons of backend changes while Windows 11 build 22000.651 (KB5012643) sported modifications to TPM, Secure Boot, and more.
Wrapping up this section of updates, the Surface Duo and Duo 2 received the April 2022 firmware update, which contains security patches. And it seems like Microsoft is working on a Surface Laptop Go 2 with newer processors and a fresh coat of paint with the new Sage color. The device is expected to hit the stores in June 2022. And while it's not really a consumer-oriented product yet, Windows Holographic received version 22H1, headlined by improvements to its flagship Moving Platform Mode.
Malware on the rise
There was a bunch of interesting news in the cybersecurity space this week. Starting us off, we have the state-sponsored Hafnium hacking group targeting Windows again with its Tarrask malware. The collective is infamous for wreaking havoc across Microsoft's on-prem Exchange servers last year. This time around, Hafnium is exploiting a Windows bug to use hidden scheduled tasks to retain access to compromised devices even after multiple reboots, while also hiding its tracks. Microsoft has issued some recommendations for IT admins that you can check out here.
In a bit of more positive news, Microsoft has caused a major disruption to the ZLoader criminal botnet that is used to spread ransomware. Apart from damaging ZLoader's infrastructure on a technical level, it has also procured court orders to shut down the domains used by the botnet. Finally, in a bit of a surprise move, Microsoft has named and shamed one of the perpetrators behind ZLoader. The offender in question is Denis Malikov of Simferopol on the Crimean Peninsula. Microsoft hopes that by revealing his name publicly, other actors are deterred and know that they can't hide behind masks of digital anonymity.
And if you're among those looking to install Google Play on Windows 11 through unofficial means, be very careful. The Powershell Windows Toolbox third-party utility that apparently offers to install Google Play on Windows 11 actually installs malware in a crafty manner in the background too. Although the project has been removed from GitHub, check out our piece here on how to spot signs on infection, provided that you downloaded the tool.
Finally, Microsoft Defender did not have a good outing with AV-Comparatives' latest antivirus report. The firm noted that the software has the poorest offline detection rates at 60.3% even though it performs admirably at 98.8% when it's connected to the internet. The findings give off the impression that Defender is useful only when it can take advantage of its cloud-powered capabilities.
Living on the Edge
As usual, Microsoft Edge received lots of updates across various channels this week. Perhaps the most useful one on Edge Canary is the ability to pause all extensions on specific websites. And if you're wondering why you would do that for extensions you installed yourself, it's basically a cautionary measure. If you're logging into your bank's website, you may want to disable all extensions so that there is no chance of them stealing your sensitive information.
There were other beneficial capabilities added to Edge Canary too. There is now a way to disable the picture in picture (PiP) button in case you don't want it to be visible while playing videos. Note that disabling the PiP control does not prevent you from playing videos using picture in picture. On YouTube, for example, you need to right-click the now playing video two times and select "Picture in picture". Another enhancement is the ability to auto-save all passwords instead of the browser asking you each time.
Edge Dev received some love in the form of version 102.0.1220.1 too. The highlights of this release include improvements for progressive web apps, a redesigned Apps management page, the option to import passwords on mobile, and a new management policy. Check out all the details here.
Dev Channel
Under the spotlight
This week, I published a rebuttal against Microsoft's weak arguments for not allowing us to move the Taskbar in Windows 11. The firm has cited low usage even though it is the most requested item on Feedback Hub and has cited engineering difficulties even though it worked perfectly fine in previous versions of Windows. Why fix something which ain't broke?
Sayan Sen blasted Nvidia for still offering the ancient GeForce GT 710 graphics card despite it simply not being a good card by today's standards. Sayan's recommendation to everyone is to simply stop purchasing this hardware so Nvidia finally kills it off.
Finally, Dean Howell published his thoughts on why the upcoming Unihertz Titan Slim with a physical keyboard (PKB) is turning out to be a major disappointment. Dean reckons that unless the company is planning a major surprise, it would be smarter for Unihertz to just cut its losses and start anew. Find out why Dean thinks so in his detailed piece here.
Logging off
Our most interesting news item of this week came from the findings of a survey which revealed that teens aren't interested in the concept of the metaverse that big tech has been shoving down our throats either. Meta is focusing on metaverse development with the recent launch of Horizon Worlds, Microsoft randomly throws the term around from time to time, and Sony and Lego's parent company has invested $2 billion into Epic Games as its big bet on the metaverse too.
However, all of the aforementioned companies are still struggling to define what the metaverse actually is, how it's different from existing digital experiences, and how they add any value to our lives, if at all. The survey results reveals that teens, who should ideally be the most interested in this proposed concept due to its similarity with gaming, aren't too excited by the metaverse either. Perhaps The Kids Are Alright after all, eh?
---

If you'd like to get a weekly digest of news from Neowin, we have a Newsletter you can sign up to either via the 'Get our newsletter' widget in the sidebar, or through this link.
Missed any of the previous columns? Check them all out at this link.