In this episode of Microsoft Weekly, we look at plenty of Microsoft Ignite news, a full house of Windows preview builds, new Microsoft processors, big new features for Windows 10, EEA-compliant changes for Windows 11, and more.
Table of contents:
Microsoft Ignite 2023
Here is what Microsoft announced during its annual Ignite conference. Although most of those announcements targeted developers and enterprise customers, some changes will also affect regular customers.
For starters, we have two new in-house chips from Microsoft; just do not expect to see them in the next Surface Pro. The Microsoft Azure Maia AI Accelerator and Microsoft Azure Cobalt will speed up Microsoft's AI workloads, bringing customers faster AI experience across different products. Microsoft plans to roll out the new chips to existing infrastructure early next year.
Microsoft also unveiled a new "Windows App" for managing connected devices and applications via Windows 365, Azure Virtual Desktop, Remote Desktop, Remote Desktop Services, and Microsoft Dev Box. The app is now available for download in preview from the Microsoft Store.
As expected, Copilot received a lot of attention during Microsoft Ignite 2023. The company renamed Bing Chat and Bing Chat Enterprise to just Copilot and Copilot Pro, plus announced Copilot for Sales and Copilot for Service. In addition, multi-modal GPT-4 Turbo is coming soon to Azure OpenAI Service and Azure AI Studio to support different input formats, such as text, images, and more.
Other notable announcements include the following:
Windows 11 and 10
Here we talk about everything happening around Microsoft's latest operating system in the Stable channel and preview builds: new features, removed features, controversies, bugs, interesting findings, and more. And of course, you may find a word or two about older but still supported versions.
As expected, Microsoft released Patch Tuesday updates for Windows 11 and 10, bringing users the latest fixes, improvements, and security patches. In addition, the update finally brings the Moment 4 update features to all Windows 11 users.
Windows 11 version 22H2 and 23H2: KB5032190, build numbers 22621.2715 and 22631.2715.
Windows 10 version 22H2: KB5032189, build numbers 19044.3693 and 19045.3693.
In addition to releasing the latest updates, Microsoft announced that Windows 11 version 22H2 would no longer receive optional non-security updates. That does not mean the operating system is no longer supported, though. It will continue receiving monthly updates with fixes and security patches. Additional non-security updates will be only available for Windows 11 version 23H2 users.
Although every update makes Windows 10 and 11 slightly better, troubles and bugs still happen. Microsoft confirmed the 8007000D error on Windows 10 and acknowledged activation issues following the recent ban of old Windows 7 and 8/8.1 keys.
Microsoft also announced that Steps Recorder, an old troubleshooting utility from the Windows 7 era, is now deprecated. That means it will no longer receive new updates, and Microsoft will remove the app from Windows at some point in the future.
Finally, the company fixed its Media Creation Tool app, allowing users to download Windows 11 version 23H2 images for clean installations or in-place upgrades.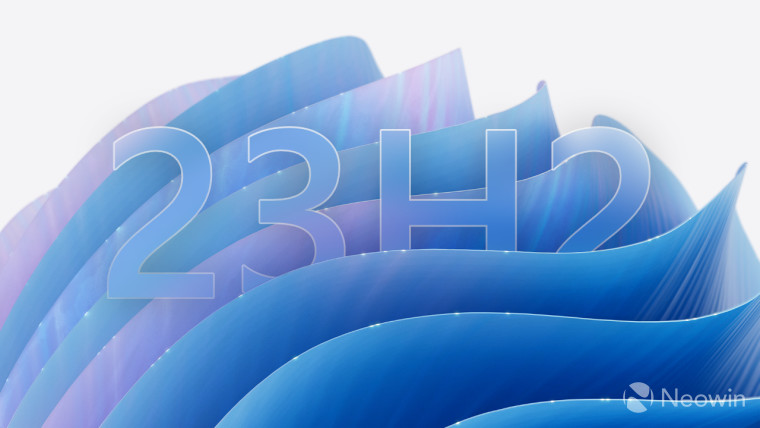 More features for Windows 10
In a surprising move, Microsoft announced some new features for Windows 10. Copilot, Microsoft's newest AI-powered assistant, is coming soon to Windows 10 users, and you can already try it in the latest Release Preview update. Since the rollout is staggered, you may need to force-enable Copilot in Windows 10 using our short guide.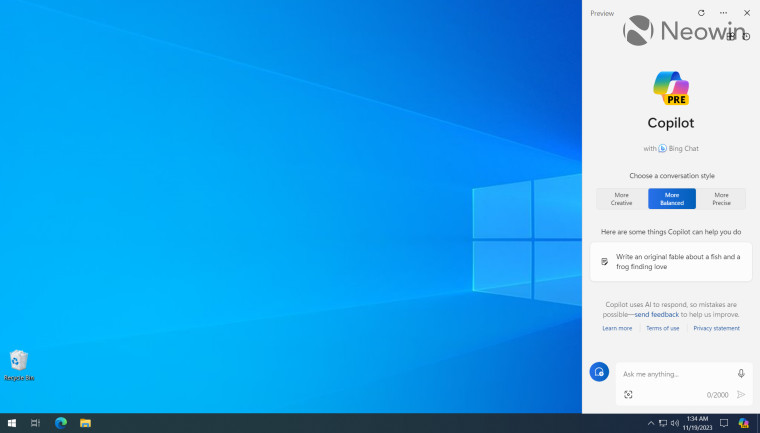 Besides, the update introduces a new Windows Update toggle that lets you get the latest non-security updates as soon as they are available.
But hey, there is more! Windows 11's latest Release Preview update contains several EEA-compliant changes that let you uninstall Microsoft Edge, decouple Bing from the operating system, and more. Although those changes are only officially applicable to EU citizens, you can apply them to your Windows 11 PC using this guide. In addition to Windows 11, those changes will soon be available in Windows 10.
Windows Insider Program
Besides fresh preview builds, Microsoft released some app updates for Windows Insiders. They can try a new version of the Microsoft Photos app with the background removal and replacement tool, plus a slightly tweaked photo viewing user interface. Those changes are available in version 2023.11110.8002.0.
In addition, Canary build 25997 contains a new button to let users refresh the list of available Wi-Fi networks. Microsoft confirmed the change but said the button needs more work, so expect more news in upcoming updates.
Updates are available
This section covers software, firmware, and other notable updates (released and coming soon) delivering new features, security fixes, improvements, patches, and more from Microsoft and third parties.
Recently launched in preview, the new Outlook app for Windows has already received plenty of tough love from users for the lack of features. Even though Microsoft promised to address the missing capabilities problem, the app keeps giving users more reasons to hate it. As it turned out, the app wants to send your non-Microsoft-related data to the company to "enhance your Microsoft 365 experience in New Outlook for Windows."
Moving to more positive updates, here is Copilot and its new shopping capabilities. Just in time before the holiday season and the scheduled shopping spree, Microsoft launched new shopping tools in Copilot to help customers better spend their dollars. The company says customers can ask Copilot for shopping ideas or even give the AI a picture of what they want.
The Microsoft Store app also received some love from developers. The latest update lets customers specify where the app should install the selected game.
In addition, Microsoft launched the Microsoft Forms app for Windows 11. You can create forms and quizzes, use AI-suggested questions, customize forms with themes, and distribute forms within the app. Microsoft Forms for Windows 11 is now available for download from the Microsoft Store.
If you suffer from the "messy desktop" syndrome, the latest Fences 5 release will help you fix the problem. The popular desktop management app received a big update with new features, such as desktop focus, easier group access, and more. Fences 5 is now available for $9.99.
There were no Surface firmware updates this week, but Microsoft published two video guides detailing how to disassemble the Surface Laptop Studio 2 and the Surface Go 4. Use those videos to learn how to repair the latest Surface devices if you are brave enough to fix your gadgets yourself.
Other notable updates include the following:
New drivers released this week:
On the gaming side
Learn about upcoming game releases, Xbox rumors, new hardware, software updates, freebies, deals, discounts and more.
The gaming section of this week's Microsoft Weekly kicks off on a sweet (literally) note. The official Xbox account on X is hosting a new sweepstakes event, giving gamers in the US a chance to win a custom Wonka Movie Xbox Series X and an edible (again, literally) Xbox controller made of chocolate.
If a chocolate-looking Xbox Series X is not your thing, Microsoft has another giveaway to participate. This contest lets you win a custom Bluey the Videogame Xbox Series X with a cute custom-themed controller.
343 Industries launched a new part of Season 5 for Halo: Infinite. "Combined Arms" offers free content, 20 tiers of free customization rewards, new armor and vehicle coatings, emblems, and visors. The update also contains an all-new multiplayer map inspired by Halo 3.
Sea of Thieves is another Microsoft game getting a big update. The second part of season ten's update delivers The Skull of Siren Song event, pitting multiple pirate crews against each other in a race to claim a magical artifact.
In addition, despite the disastrous launch, Arkane Studios continues updating Redfall with new content. The third update is now available with a brand-new weapon, AI improvements, mission fixes, performance enhancements, and better accessibility.
This week, The Game Awards announced the nominations for the 2023 awards. As many expected, Alan Wake 2 and Baldur's Gate 3 received the most nominations (both nominated for Game of the Year). Marvel's Spider-Man 2 and Super Mario Brows. Wonder also received seven and six nominations. The Game Awards will reveal winners on December 7.
---
Xbox and PC Game Pass subscribers will soon receive several new games. Coral Island and Persona 5 Tactica are now available, with Dune: Spice Wars and Rollerdrome joining on November 28, 2023. It is also worth noting that seven games will leave Xbox and PC Game Pass on November 30. Those titles include three Battlefield games, Anvil, Eastward, and more.
By the way, many Xbox Game Pass titles are available on NVIDIA's GeForce NOW streaming service. And to attract more customers, NVIDIA is now giving away three months of PC Game Pass when you sign up for six months of GeForce NOW Ultimate ($99), allowing you to save $30.
Deals and Freebies
The Epic Game Store is giving away Surviving the Aftermath and Earthlock. The first game is set in an apocalypse setting where you manage a colony and try to keep everyone safe. Earthlock is a fantasy adventure turn-based RPG.
Valve also has a freebie you can snag before November 20, 2023. The original Half-Life is now available for free on Steam. Grab it while you can if you do not own this legendary piece of gaming history.
If you want more, check out our latest Weekend PC Game Deals article covering a multitude of discounts and special offers.
A blast from Microsoft's past
John Callaham's weekly "Look back" series provides throwbacks into the past, detailing the company's products, partnerships, mishaps, and successes from years ago.
For many people, MS-DOS and Windows are synonyms for Microsoft. But did you know that before MS-DOS and Windows 1.0, which marked its 40th birthday last month, there was another "Microsoft-made" operating system for desktop computers? This week, John Callaham's look-back article details the history of Xenix, a Unix-based OS Microsoft had hoped to become the standard choice on the personal computer market.
You probably know Microsoft Flight Simulator, but did you know there once was Microsoft Space Simulator? The second look-back article of this week is about Microsoft's forgotten space simulator (as the name implies), where you could fly the Space Shuttle, pilot the Apollo Lunar Lander, perform EVAs (extravehicular activities), visit space stations, and more.
The game was initially released for MS-DOS, one year before Microsoft launched Windows 95. Despite its age and less-than-impressive graphics, Microsoft Space Simulator still has dedicated fans, and many ask Microsoft to release a modern version of the simulator.
---
Random fact about Microsoft
And here is a randomly selected piece of trivia about the company, Windows, and other Microsoft-made things.
Microsoft is famous for its rich set of productivity apps that help users get things done. Many people know the company for Office, Teams, Skype, and other well-established products. But did you know that Microsoft used to offer its customers an app to manage finances? In October 1991, the software giant released Microsoft Money, a personal finance management software. Available on Windows and Windows Mobile between 1991 and 2011, the app offered various tools to help you track expenses, create budgets, and view bank accounts.

You can find other issues of the Microsoft Weekly series using this link. Also, you can support Neowin by subscribing to our Newsletter to get regular news recaps delivered directly to your email.
Disclaimer: Neowin's relationship to Stardock